Gift card fundraising, also known as Scrip fundraising, has been the #1 fundraiser for nonprofit organizations across the U.S. for more than 25 years.
Why? Because it's easy and more convenient than selling goods or recruiting volunteers. Earn simply by buying gift cards to use for everyday purchases, instead of cash or credit cards. Buying gift cards through the Raise Right app or website helps support UUCF when you shop at your favorite stores!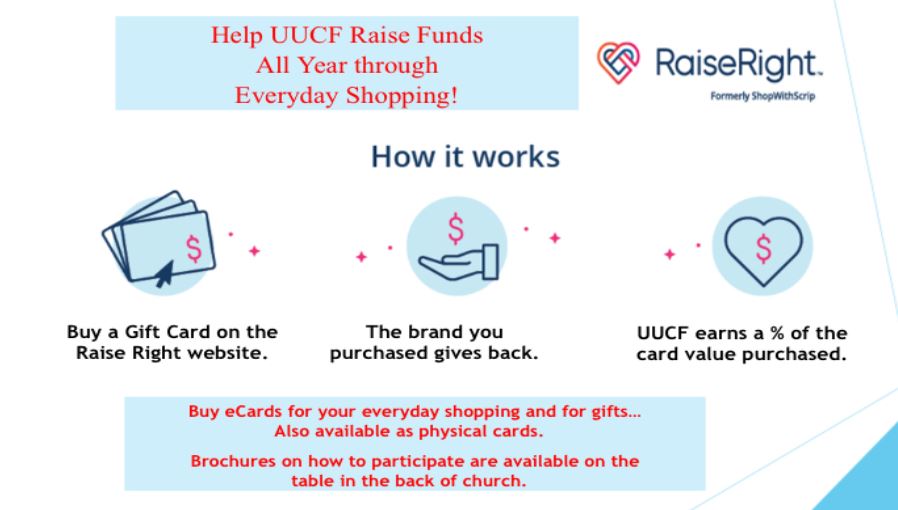 It's so easy to buy gift cards for yourself, friends and family and support UUCF!
Here's two ways:
Ecards:
Log into RaiseRight.com or use the Raise Right app.
Select the eGift card you want to send as a gift
Check the box labeled "Send as a gift by email"
Enter the date you want it sent (or send "now")
Provide the email address
Add it to your cart
Repeat
Physical Cards:
On the phone app, search by category and then filter for eCards that are
eligible to be shipped to home
On the website, search by Card Type, then Ship to Home
A physical card that can be shipped to the address of your choice will always show "ship to home eligible".
Add the card to your cart and keep on shopping. When you go to your cart to check out, click on the box that says "ship them to me". Select the address (shipping addresses are added under your account information) and go ahead with placing your order.
Please don't order cards that need to be shipped to the coordinator – they go to the church and we have to figure out who ordered what, and you'll have to make arrangements to pick them up … messy!
It's so easy to get started by downloading the "RaiseRight" Mobile App from either the Apple Store, or Google Play. Use enrollment code 9142A6EC1745 which directs your donations to UUCF and then follow the instructions for setting up the rest of your account.
You can also log in to the website: https://www.raiseright.com if you don't want to download the app. Provide the same enrollment code, and follow the set-up instructions. You can print a copy of your eCard and take it with you to the store.
If you have any questions, or need help setting up your account please see Linda Brown, Mark Petrie, or any member of Fundraising.
You can also check out the Raise Right FAQ page for more information about the program.