Weddings
1853 Historic Wedding Venue and Reception Hall in Farmington Hills, MI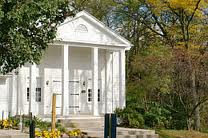 Whether you're planning a wedding, commitment ceremony, renewal of vows, or another celebratory event, UU Farmington welcomes you and your loved ones to our picturesque historic wedding venue in Farmington Hills Michigan.
Situated on seven acres of woods and gardens in Oakland County, Michigan, our 1853 registered historic wedding chapel (and meeting house), is the oldest church building in Farmington Michigan, and offers an intimate and peaceful setting for your most important life events. Surrounded by woods and gardens, our building sits in a pastoral setting that is conveniently close to urban amenities.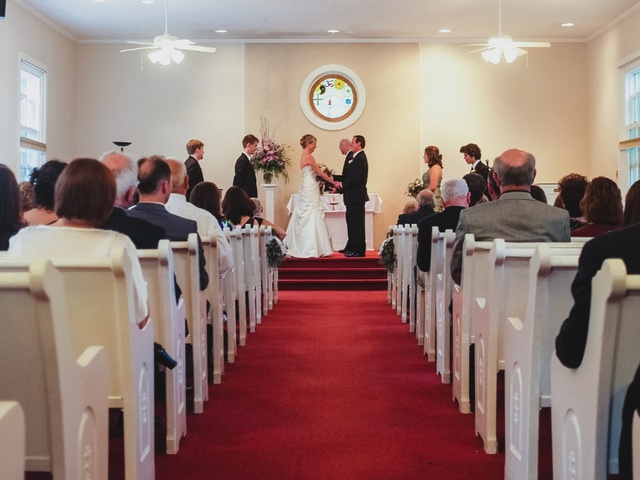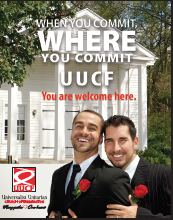 With seating for up to 160 guests, our charming, New England-style meeting house provides a warm space for your most special day. Two rows of traditional white pews lead to a simple white altar and pulpit, providing a classic backdrop to your decorative touches. With excellent acoustics, a grand piano, and available amplified sound, the music you chose to  serve as the soundtrack for your event will reach every guest while revealing the best of your musicians' talent.
A convenient reception hall sits directly below the meeting house. It boasts a full kitchen with commercial grade appliances, a serene view of the woods surrounding the building, and room for 160 guests.  We provide folding tables and padded fabric chairs which you may arrange as desired.
Accessibility
Our historic wedding venue is an accessible building for all, with easy-access parking, wheelchair accessible facilities, an elevator in the lobby, and a hearing-aid compatible hearing loop in the meeting house.
Location
We are just minutes from historic downtown Farmington on Halsted Road, between Grand River and Eleven Mile Road. The church is conveniently located not far from the interchange of I-275, I-96, and I-696 with several hotels less than five minutes away. (map)
Rates and Terms
Chapel / Sanctuary Rental (3 hours): $400
Rental time includes your decorating time, event, pictures, and removal of decorations.
Use of our electronic equipment for recorded music is permitted, although you must provide your own sound operator. Instructions are available.

Use of the grand piano is included. Our church pianist is available for a separate fee.
Party Hall or Intimate Reception Rental (4 hours): $300 without kitchen, $350 with kitchen 
Folding tables and chair available for your use, or you may bring in round rental tables and chairs. We do not provide linens. Setup and cleanup are the renter's responsibility.

Seated capacity at tables is 75, with total capacity is 160.
Additional Services
Our minister is available to officiate over your service for an additional fee of $500. She encourages couples to creatively develop a ceremony that expresses their own thoughts and beliefs by selecting poems, readings, and reflections important to them but is happy to assist the planning process. We welcome all religious traditions in our meeting house.

Our pianist, Diana, offers her services as well for an additional fee.
Availability
For more information about UU Farmington rentals, call us today at 248-478-7272 or email at info@uufarmington.org.